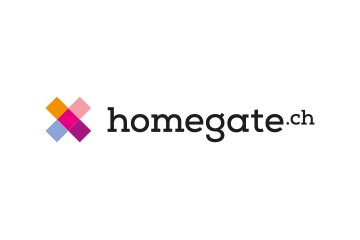 Tamedia is the leading private media group in Switzerland. The digital platforms, daily and weekly newspapers and magazines of Tamedia offer overview, classification and selection. The company was founded in 1893 and employs a staff of approximately 3,400 in Switzerland, Austria, Denmark, France, Germany, Israel, Luxembourg and Serbia. It has been traded at the Swiss stock exchange since 2000.
homegate.ch is the leading property portal in Switzerland. Anyone looking for a flat or other type of property will find a large choice of houses and apartments to rent or buy in all parts of the country and for a range of prices at homegate.ch. The website is also clear and easy to navigate via iPhone, iPad, Android and other smartphones. In addition to these services, the website also offers a mortgage comparison tool as well as editorial sections on living, finance and moving.
Senior Analyst (w/m) 80-100%
Situation
At Homegate we are already very strong in Switzerland with business customers. To become the strongest player in regards to private customers, we're starting a brand new team, which will focus on winning new private customers and listings. This small team which will be...
highly agile, reacting to data and market insights immediately
eager to learn, either through data analysis, mailing our customers or phone call campaigns
focusing on quick, hacky approaches (one-off approaches) which only stay for a few weeks
willing to be spontaneous, try out also seemingly stupid ideas, interact with customers, step out of the comfort zone
What would be your responsibilities?
You analyze existing data coming from Homegate's rich historical data, competition analysis, Google Analytics, A/B testing, mail campaign reports in order to find opportunities to grow our listing stock at Homegate
You test hypothesizes first with existing data and then with the team through implementing new adhoc prizing or service options in the market
You help segmenting the market, e.g. geographically, different personas (private vs. professional customers), different situations (rent vs. sales), prizing, etc. in order to find the next growth opportunities
You look for new data sources, either official ones, through crawlers, etc.
What we require from you
You have worked in the classifieds segment, ideally real estate
3+ years experience in statistical modelling (regression/classification)
Working knowledge of SQL, Tableau knowhow is a nice-to-have
Proficiency in a statistical programming language (R, Python/Pandas or similar)
Basic Data-Engineering capabilities (parse different type of raw data, data cleansing, matching, etc.)
Fluent in English with strong communication skills (both written and verbal), German is a plus
AWS knowledge is a plus (EC2, VPCs, S3, Redshift)
Most importantly: you need to be curious and spontaneous, ready to try out crazy ideas with an entrepreneurial approach
Benefits
Working with experts in the field in an international environment
Flexible working hours and Home-office possibilities
Personal development plan and yearly budget for educational courses, conferences etc.
On-site canteen with plentiful selection of fresh food and salad
Lots of team activities and regular hackathons
Location
Zürich
We look forward to your application
Denisa Fetahovic
Recruiter
Apply online

We do not accept unsolicited applications from third - party agencies.